PML designed this front differential cover for:
2003 to 2013 Ram 2500 (2013 is transition year, verify stock cover has 14 bolts)
2003 to 2012 Ram 3500
2006 to 2008 Ram 1500 Mega Cab
Always check your truck to verify differential and clearance.
2013 and newer Ram 3500 and 2014 and newer Ram 2500 have an updated AAM 9.25 differential with a 12 bolt cover. See PML part number 11136.
Volume: approximately 0.5 quarts over stock
Dimensions: Click here for dimensions. Check for clearance with wheels straight, left and right and at limits of suspension.
PML made this differential cover as a bolt on replacement for the stock cover on the American Axle Manufacturing (AAM) 9.25 inch 235mm ring gear front differential used in Dodge Ram trucks.
Benefits:
Profile similar to stock cover for clearance on Ram 2500, 3500 trucks
Drain hole and magnetic drian plug for easier servicing and following 15K oil change interval recommended by Ram
Extra capacity
Fins for heat dissipation
Heavy duty sand cast aluminum construction
Machined gasket surface for a secure seal
Oil fill/level check hole and plug at same location as on stock cover
Why a Low Profile Cover?
Because of many clearance issues with steering, u-bolts, and suspension, PML maintained a low profile with partial fins with this cover.
Starting about 2008, Dodge added a u-bolt to the front end design that would contact larger aftermarket covers when at the limit of the steering. This u-bolt was retrofitted on early year trucks during service visits. The suspension on Megacabs would also contact a larger cover when the truck was loaded. To avoid these problems, PML designed this cover.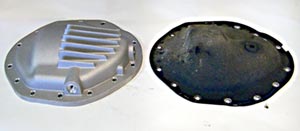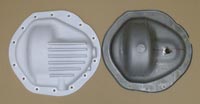 In first picture, PML cover is on the left and the stock cover from a 2007 Ram 2500 Mega cab is on the right.
In the second picture, PML cover is next to a stock cover.
Click on image to view larger.
The PML cover follows the contour of the stock cover to maintain clearance.
The fin-free left side prevents interference with the u-bolt.
The PML cover is still larger than the stock cover so please check your truck carefully to make sure you have space for a larger cover. Reference the dimensions in the above link.
Rear Differential Cover
PML makes a matching rear end cover for these Ram trucks. Most common rear differential covers are AAM 11.5" ring gear, 14 bolt cover, (click here) or the AAM 10.5" ring gear, 14 bolt cover (click here).
Gasket
PML recommends RTV gasket material. RTV is a type of silicon rubber and it comes in a tube. There are several brands, such as Permatex, and these are readily available at automotive stores like Pep Boys and AutoZone.
Some people use the reusable factory gasket. Please make sure the gasket is clean and free of any nicks. If there is a nick in the gasket, that is where you'll get a leak. This PML cover is compatible with Mopar gasket part number 5086682AA.
Optional Temperature Sending Unit Machining
Optionally, PML can drill and tap for a temperature sending unit at the 4 o clock position on the side of the cover. This would be a 1/8 NPT hole and would include a plug.
Replacement for PML Part Number 10740
This cover replaced PML part number 10740.
PML Differential Cover Compared to Stock