This rear end differential cover fits the Ford 7.5 ring gear. Some possible applications are:
Bronco II, 1984 to 1990
Ranger, 1983 to 2012 (the 4.0L engine Rangers usually have the larger 8.8 inch rear)
Mustang, 1982 to 1986
Aerostar, 1986 to 1997 and minivans
Mazda B2300, 1994 and newer
Mazda B3000, 1994 and newer
Always check your truck to verify differential and look for clearance. Configurations vary. This cover is larger than stock so make sure you have space for a larger cover.
This cover may also fit some minivans, Crown Vics, Grand Marquis cars, and Thunderbirds. The Ford 7.5 stock cover is about 9.75 inches vertically. Some models may have the larger Ford 8.8 differential (PML part numbers 7064 and 9519), which is more rectangular in shape and longer (vertically). Please check carefully which differential your vehicle has and if you have clearance.
Number of Bolts: 10 bolts
Volume: 0.4 quarts over stock, approximately
Dimensions: Click here for dimensions. A separate window or tab will open.
Benefits:
Drain hole and magnetic drain plug
Extra capacity
Round, pumpkin like shape similar to stock cover
Finned for heat dissipation and a classic styling
Heavy duty sand cast aluminum construction
Thick walls and gasket flanges to provide a uniform clamping force on the gasket surface for a secure seal
PML makes two covers for the Ford 7.5 inch (7½") ring gear differential. PML Part Number 9593 has a pattern fin design and more clearance for pan hard and sway bars, gas tanks, spare tires and similar.
Drain Hole, Drain Plug and Hardware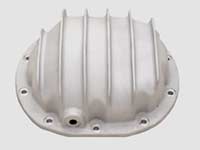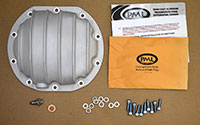 Click on image to view larger in a new tab or window.
This cover has a drain hole on the bottom for easy servicing of the fluid. A magnetic drain plug and new mounting bolts are included with the PML cover.
Inside of PML Differential Cover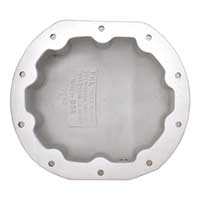 The inside of this PML cover follows the curved shape of the stock cover.
The thick flange provides a large surface for a leak-proof seal on the differential housing.
Click on image to view larger in a new tab or window.
PML Differential Cover Compared to Stock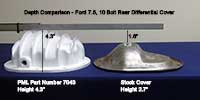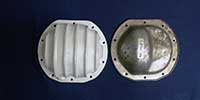 Click on image to view larger in a new tab or window.
This image compares the depth of both PML Ford 7.5, 10 bolt differential covers and the stock cover. Click on image to view larger in a new tab or window.