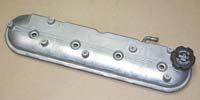 Click on image to view larger.
PML designed these valve covers to replace the stock covers (shown in image). PML valve covers fit the stock GM center bolt cylinder heads used in 3rd generation LS Chevrolet® small block engines, 1997 and newer. Versions of these heads are found on Corvette, Silverado/Sierra, Tahoe/Yukon, Camaro/Firebird, and GTO's.
Some early Gen III engines in 1997 and 1998 have 9 bolts on the perimeter of each cover. These PML valve covers will not work with the 9 bolt perimeter mount cylinder heads.
Dimensions: Click here for dimensions. A PDF file will open in a separate window.
Finishes: Read about finishes and construction of PML parts.
These PML valve covers for LS engines feature a tall height and a clean design with raised fins. They are heavy duty and larger than stock.
Two recessed bolts per cover (stock uses four) hold the cover on the engine. The sand cast aluminum construction provides stiffness so four bolts are not needed to apply pressure evenly to the gasket.
This PML design located the PCV/breather/oil fill hole in the center on the intake side. The stock covers have the oil fill on the top. With PML covers, a hole on the intake manifold side is used for oil fill, in keeping with the clean, classic design.
Relocation of the coil packs if the responsibility of the installer. Always verify engine configuration, dimensions, and clearance before ordering.
Gaskets: One set of custom cork composite gaskets included with each set of valve covers.
PCV, Breather, Oil Fill and Optional Machining
These valve covers have holes cast into the intake manifold side of the cover for PCV, oil fill and breathers. The holes are 1 inch in diameter. Some applications require larger holes, for example 1 1/4 inches. The cast-in holes can be machined to the larger size if needed.
PML has a machine shop on-site and can machine holes. There is a charge for machining. Please call to order machining and discuss the specifications.
Images below show an example set-up. Holes on the valve covers were both machined to larger 1 1/4 inch. One cover has a push-in breather (center image) installed. The other cover has a PCV valve with grommet. Push-in breather and grommet both available from PML.
This shows the inside of the cover machined for the push-in breather with the breather installed:


Click to view larger image in a separate window or tab.
Gaskets
PML designed our valve covers and gaskets for a secure seal. PML supplies one set of our gaskets with each order.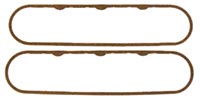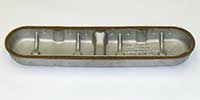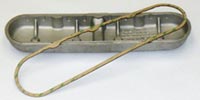 Click on an image to view larger in a separate tab or window.
The gasket is a cork composite material and are "peel and stick" for ease of installation.
PML valve covers will not work with stock gaskets and PML gaskets will not work with stock valve covers.
One set of custom cork composite gaskets included with each set of valve covers. For additional gaskets, see Gasket for PML Chevy Small Block LS1 and LS6 Valve Covers.
Coil Packs
Coil packs will need to be relocated in order to use these valve covers.
Baffles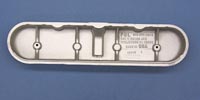 Click on image to view larger.
Valve covers feature internal cast-in baffles. Inside of cover pictured at right. The baffle is in the center of the cover where the PCV/oil fill/breather hole is located. The hole is 1 inch but can be machined to 1 1/4 if needed.