This PML heavy duty, extra capacity transmission pan fits many 2WD and 4WD vehicles with the 4R55E, 5R55E, 4R44E, 5R44E, and A4LD transmissions. These 4 and 5 speed transmissions are found in primarily in 1985 to 2001 Ford Rangers and Explorers but can also be in several models and years:
Ford Aerostar, 1986 to 1997 with 2.8, 3.0, and 4.0 engines (the 1986 model was introduced in 1985)
Ford Bronco II, 1985 to 1990 with 2.8 and 2.9 engines usually have front cross member interference
Ford Explorer, 1991 to 1994 with 4.0 engine
Ford Explorer 1995 to 2004 usually have exhaust interference with a larger transmission pan or have a 5R55W pan which requires a fill/level check on the pan)
1990 to 1993 Ford Mustang with 2.3 engine (may have AOD transmission and clearance issues)
Ford Mountaineer, 1998 to 2001 with 4.0 engine
Ford Ranger, 1989 to 1997 with 2.3 (4 cylinder), 2.5 (4 cylinder), 2.9, 3.0, and 4.0 engines
Ford Ranger, 1998 to 2012 with 2.3 (4 cylinder), 2.5 (4 cylinder), and some 3.0 and 4.0 engines (exhaust

may

interfer with larger transmission pan so check your truck)
Ford Thunderbird, 1987 to 1988, with 2.3 engine
Always check your vehicle before ordering. There are MANY configuration and clearance issues. This list is not complete. Your vehicle may be different. Verify the transmission in your vehicle and make sure there is clearance for a larger pan.
On some vehicles, such as Ranger, the exhaust can be one pipe or two. Some customers with one pipe have reported that the exhaust interfers with this deep PML pan.
One customer with a Ranger 4.0 V6 reported that this pan contacted the catalytic converter and resonators on side and front of the transmission pan. Note that this pan has been installed successfully on many Ranger 4.0 V6 trucks without a problem.
The A4LD transmission is a C3 transmission with overdrive.
Volume: 3 quarts over stock
Dimensions: Click here for dimensions.

Number of Bolts: 18
PML designed this transmission pan for 1985 to 2011 Ford vehicles, such as Ranger and Explorer, with the the 4R55E, 5R55E, 4R44E, 5R44E, and A4LD transmissions.
Extra capacity
Fins for cooling
Heavy duty, thick wall construction for strength
Drain and magnetic drain plug to facilitate oil changes
Internal baffles to reduce sloshing and help with heat dissipation out of fluid
Machined gasket flange for secure seal to the transmission housing
Filter: , use the 4WD filter with this transmission pan even if the vehicle is 2WD.
PML Part Number 9614-1: In 2003 to 2005, PML also manufactured and sold PML Part Number 9614-1. This pan was for 2WD vehicles and worked only with the 2WD filter. 9614-1 is obsolete and this pan, part number 9614-2, replaced it.
Bolt Info
PML provides replacement bolts with this transmission pan. PML bolts must be longer than the stock bolts because the flange on the PML pan is much thicker than the stock pan.
Most 4R55E, 4R44E, A4LD, and 5R55E have 8mm bolts holding the stock pan on to the transmission. A few transmissions use 6mm bolts. In inches, the diameter of 8mm bolts is 0.30 and the diameter of 6mm bolts is 0.23.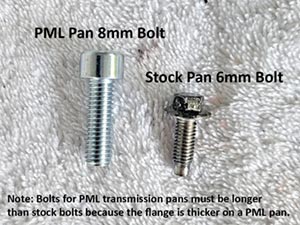 Note difference in diameters. Click on image to view larger.
Ford seems to have started using 6mm bolts around 2010. If you check your bolts before ordering and find you have 6mm bolts, call or email us and we will provide the correct 6mm bolts with the pan.
Filter Info
PML's Ford transmission pan is designed to work with the stock 4WD filter.
On a 2WD and 4WD vehicles, we strongly recommend the 4WD filter because of the pick up tube. The filter bolts onto the valve body.
These images show from left to right: the 2wd filter, the 4wd filter, side view of 2wd filter, side view of 4wd filter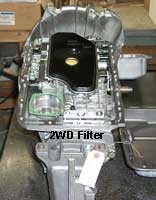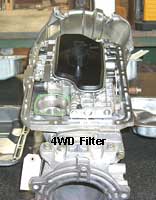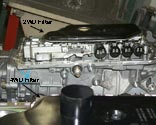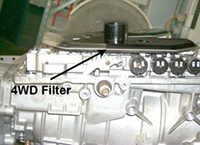 Click on images to view larger ones in a separate tab or window.
Customers have let us know they liked AC Delco Filter TF 240 and Wix Filter 58841.
Information for reference only. Installer should verify appropriate transmission, filter, and fitment based on the individual vehicle.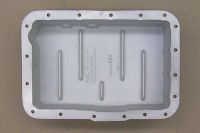 Baffles
PML's Ford transmission pan features internal baffles to reduce sloshing and provide additional surface area to remove heat from the transmission fluid.
This shows the cast-in baffles and the pan interior. Click on image to view larger picture in a another window.
Optional Temperature Sending Unit Machining
Optionally, this pan can be machined for a temperature sending unit. There is a boss on the driver/left side of the pan near the drain hole available for this.
If you would like PML to drill and tap hole, the machining charge is per hole. A plug for the hole is included. The standard size is 1/8 NPT. Call or email if you need a different size.
PML Transmission Pan Compared to Stock