This cover fits the Chrysler/Dodge 9.25 inch ring gear differential, frequently found on the rear of the following vehicles:
Ram 1500, 1994 to present

2009 and up should check clearance with sway and pan hard bars as it is a tight fit but has been installed
SRT models usually need a Dana 60 10 bolt differential cover
Mega Cab models usually need 10.5 inch ring gear 14 bolt differential cover

Dakota, 1998-2003, 5.9 engine
Dakota, 2000 & newer, 4.7 engine
May need PML Chrysler 8.25 10 bolt cover
Durango, 1998-2003
May need PML Chrysler 8.25 10 bolt cover
Ram Vans
May need PML Chrysler 8.25 10 bolt cover
Always check your vehicle to verify differential and clearance. Configurations vary. Counting the bolts on the stock cover can help identify the differential. PML cannot guarantee fitment.
Aftermarket parts, such as sway bars, change the available clearance for a larger differential cover. Check measurements.
Common gear ratios for the Dodge 9.25 rear axle are 3.21, 3.55 and 3.92.
Volume: 0.7 quarts over stock
Dimensions: Click here for dimensions. A separate window will open and load an image.
PML designed this rear different cover for Ram 1500, Dakota, and Durango, with additional capacity and fins for dissipating heat from the fluid.
On trucks with sway and pan hard bars, this design maintains clearance to those OEM parts.
Benefits:
Drain hole and magnetic drain plug included for easy servicing
Extra capacity
Fins for heat dissipation
Clears stock pan hard and sway bars in most configurations
Custom fin design
Strong sand cast aluminum construction
Machined gasket flange for a secure seal
Included with Cover
This PML rear axle cover has drain, level check, and fill holes for easy maintenance. Just below the fill plug, is the level check hole. You fill until the fluid comes out of that hole. Plugs are provided for all three holes. The drain plug is magnetic.
PML includes new hardware with the cover.
Optional Temperature Sending Unit Machining
The cover has a location on face that can be machined for a temperature sensor. The temperature sending unit will stick out perpendicular to the face of the cover.
There is a machining charge for PML to drill and tap the hole.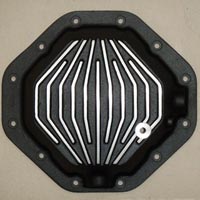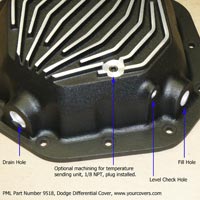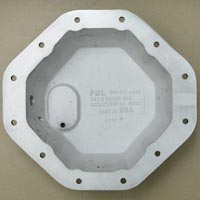 Click on image to view larger in a new tab or window.
Sway and Pan Hard Bars
This PML cover has been installed on many newer model year trucks although there is not much space. Dropping the sway bar during installation is helpful.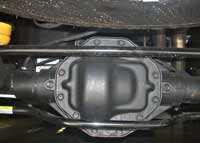 Click on image to view larger.
This image shows the stock cover on a 2011 Dodge Ram 1500 4X4 with the ZF differential. Dodge added pan hard and sway bars behind the differential cover on Ram trucks for 2009 models.
Sport models have different suspension. This could change clearance.
Configurations vary so check your vehicle before ordering.
See Installations section for examples.
PML Differential Cover Compared to Stock